Qikiqtarjuaq is a friendly community located just north of the Arctic Circle on Broughton Island, adjacent to the eastern coast of Baffin Island at the Davis Strait.
Qikiqtarjuaq (fondly called 'Qik' for short) is known as the iceberg capital of Nunavut. Many species of marine mammals thrive here, including bowhead whales, narwhals and orca whales. Qikiqtarjuaq is conveniently close to the northern boundary of the majestically mountainous Auyuittuq National Park.
Qikiqtarjuaq
ᕿᑭᖅᑕᕐᔪᐊᖅ
'Big island'
This welcoming hamlet encourages visitors to enjoy its impressive art scene and partake in a number of outdoor activities that are ideal for hikers, skiers, climbers and sledding enthusiasts.
The temperature hovers around 10°C in the months of July and August. During the winter months temperatures can sometimes drop to -40°C. It is often very windy here plus it is quite dry, with an average of 270cm of snowfall each year and 3.5cm of rain.
Average Temperature in Qikiqtarjuaq

January
-25oC
February
-26oC
March
-24oC
April
-17oC
May
-8oC
June
0oC
July
4oC
August
3oC
September
3oC
October
-8oC
November
-16oC
December
-22oC
Summers are beautiful in 'Qik' with 24 hours of sunshine from May 29 to July 15.
Current weather in Qikiqtarjuaq
Qikiqtarjuaq is a relatively new community, but the coastal region surrounding Broughton Island has been known for its excellent whaling since ancient times.
A whaling station called Kivitoo was established just 64km north of modern Qikiqtarjuaq. In the 1950s, during the Cold War, a NORAD (North American Aerospace Defense Command) military station was constructed on Broughton Island that formed part of the Distant Early Warning (DEW) Line. This attracted industry and trade. The runway built by the joint Canada-US military organization allowed for air travellers to finally reach this previously isolated region. In 1962, there was a horrible tragedy near Kivitoo. A mass drowning occurred that devastated the community. Survivors and their families felt it was best to move to the area surrounding the military base, so Kivitoo was abandoned and the young community originally known as Broughton Island developed to become the hamlet that we fondly know today as 'Qik.'
The military pulled out of the region in 1992. In November 1998, the current community name with Inuktitut spelling was adopted.
In the 1800s, European whalers would crisscross the Davis Strait between Greenland and Baffin Island to trade goods with the local Inuit people.
Qikiqtarjuaq is opportunely located just on the northern edge of the great Auyuittuq National Park.
The park offers a range of activities, such as hiking in the summertime and cross-country skiing in the winter. Travelling inland from 'Qik' leads to many picturesque views of mountains and glaciers.
The dramatic Pangnirtung Pass ice cap is another special place to experience. In the early spring, when the days are longer and there is lots of snow, snowmobiling is very popular, which allows for fun opportunities to quickly see more of the area. You can also go dog sledding to enjoy a truly unique adventure that only the arctic can provide.
Summertime camping in the beautiful Akshayuk Pass is yet another very enjoyable way to spend a northern vacation. Expert outfitters and local guides are happy to show you all of the amazing sites there are to see.
In the fall, highly qualified guides can escort you to safe places in the region for viewing polar bears, which is an unforgettable experience.
Mount Thor is famous for its fantastic 1500m vertical cliff face, which is of particular interest to those wishing to see some of Nunavut's more unique landmarks.

The hamlet of Qikiqtarjuaq is an excellent vantage point for watching arctic sea life like narwhals, orca whales, walruses and seals.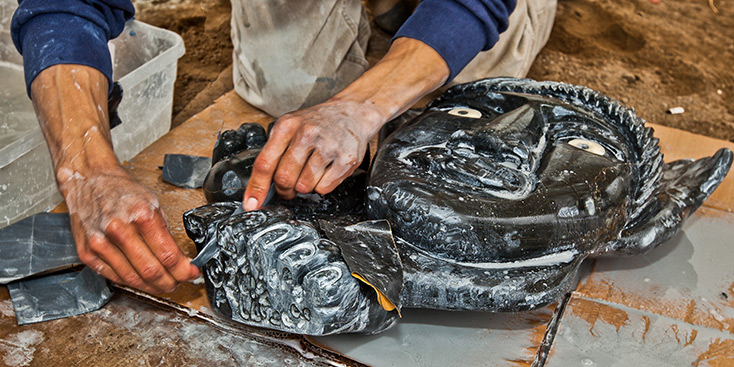 Qikiqtarjuaq has an excellent clothing industry creating traditional Inuit clothes that can be purchased from a number of sources. Inuit art is available in a local craft store and there are plenty of talented individual artists from whom you can acquire beautiful carvings, prints and jewellery.
Auyuittuq National Park
Whether you want to climb rugged peaks, ski pristine ice fields or hike the scenic Akshayak Pass, Auyuittuq National Park has amazing glaciers, waterfalls, sheer cliffs, semicircular valleys and distinctive flat-topped peaks like Mount Asgard.
Established in 1976, this national park protects 19,089 square kilometres of pristine, glacier-scoured arctic terrain. The Inuit people have used this majestic land for thousands of years as a traditional travel corridor.
Qaqulluit (Cape Searle) & Akpait (Reid Bay) National Wildlife Areas
Located on the northeast side of Baffin Island, not too far from Qikiqtarjuaq, these two enormous wildlife areas, covering hundreds of thousands of hectares, were recently established to protect and preserve critical breeding and feeding grounds for millions of migratory Nunavut birds. For avid birdwatchers and lovers of arctic biodiversity, these national wildlife areas are special places to visit.
'Auyuittuq' in Inuktitut means 'land that never melts.'