5 Things to do in Rankin Inlet
Discover the year-round potential for adventure in Rankin Inlet
When imaging your adventure to Nunavut, the first things that come to your mind are probably the typical Northern activities – dog sledding, kayaking, ripping around on a snowmobile, and fishing. While these are all great activities, if your travel through Nunavut includes a stop at Rankin Inlet, we suggest these 5 things you simply can't do anywhere else.

1. Peruse Local Masterpieces at Matchbox Gallery
Observing Inuit art is a great way to not only learn about the history and culture of Rankin Inlet, but nothing beats the feeling of finding a piece that intrigues you and being able to bring it home. From ceramics to soapstone, you'll find unparalleled Northern art at Matchbox Gallery. Any given day, let their curator take you through the gallery and explore the past and present artists that use the space to display their art. At Matchbox Gallery, you'll be able to find truly Northern art that can't be found anywhere else and maybe even meet the artist. For beautiful souvenirs and authentic keepsakes, there is no place we can recommend more highly.
2. Explore Archaeology in Iqalugaarjuup Nunange Territorial Park
Located 10 km northwest of Rankin Inlet, Iqalugaarjuup Nanange Territorial Park has some of the most amazing landscapes you can find – a chain of beautiful lakes and low, tundra valleys strung along the Medialine River and its rocky cliffs. While the park protects the breath-taking scenery, it also preserves an archaeological site – Qamaviniqtalik or "place with ancient sod houses". Let the park's information book guide you through this sacred place, past depressions in the hillside showing the echoes of sod houses or piled stone hunting blinds that hid hunters from approaching caribou. Walk where ancient Inuit walked and enjoy the preserved natural beauty of the park. Whether you hike the 10 km or make the 15-minute drive, Iqalugaarjuup Nunange Territorial Park is a beautiful combination of natural beauty and traditional history.
3. Whales you can watch off the coast of Marble Island
Marble Island is a geological marvel itself – it's made of a sedimentary rock called wacke. Because of its quartzite content, the island looks like a large marble form emerging from the water. What draws interest to Marble Island beyond its unique composition and storied whaling history is the vast amount of wildlife that thrives around the island. From arctic birds to seals and foxes to polar bears, the abundance of wildlife means you'll likely see a wide variety of northern ecology.
The crown jewel of any wildlife watching adventure is spotting a beluga, orca, or bowhead whale. While whaling is still a part of traditional Inuit hunting, the thriving community of whales has also made it a major ecotourism attraction. The history of whaling still remains in the sunken vessel of James Knight from his 1719 expedition. You can find the names of sailors etched upon the rock and visit the graves and ruins among the menagerie of arctic wildlife.

4. Celebrate Pakallak Tyme with the Locals
If you find yourself in Rankin Inlet in spring (which starts in May this far North) you may find yourself able to take part in the celebration of Pakallak Tyme. Come take part in community feasts, compete in a square-dance contest or just dance for fun, watch local talent at the talent show and see the skillful handling of locals taking part in a snowmobile race – that's right, there will still be snow in May. Warm laughs, warm hearts, warm food and warm greetings will keep you celebrating well into the bright evenings of this multi-day event, and there's no better time to see the people of Rankin Inlet.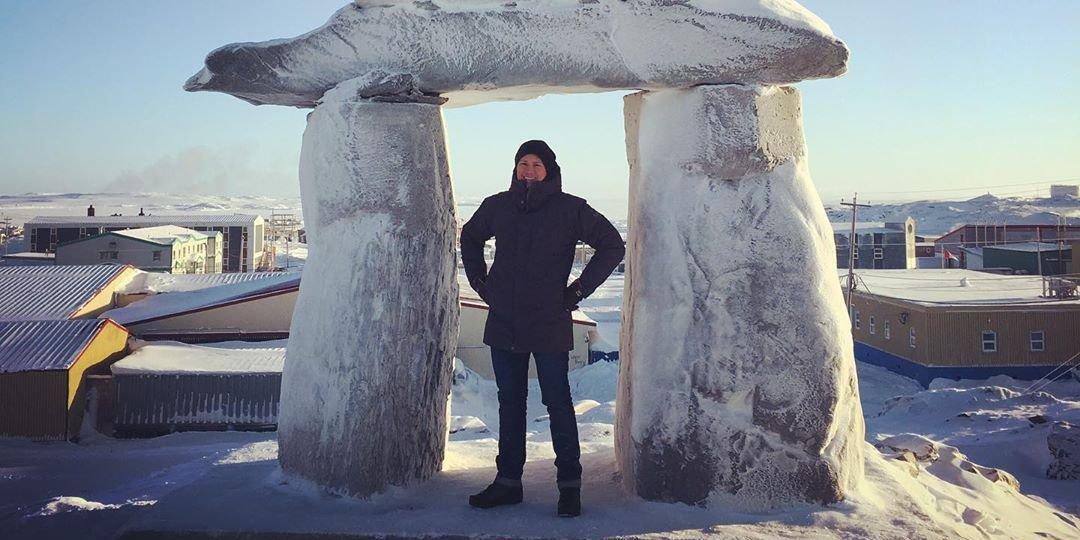 5. Find your next Hike at Kivalliq Regional Visitor Centre
The Kivalliq Regional Visitor Centre is a must-stop for someone looking to make the most of their time in Rankin Inlet. Knowledgeable staff can help you find tour guides, potential excursions, regional maps and cultural information. The centre itself exhibits prized Inuit artwork and several display cases with clothes, arctic animals and other regional displays. If you are looking for a place to fully explore your options in Rankin Inlet and the surrounding area, the Visitor Centre should be your first stop in planning your adventure.