In Nunavut, experience Inuit culture on the land or in the studio
Even though Nunavut's entire population could easily fit inside of a modern baseball stadium, the territory has established an outsized presence on the global arts and culture scene. That's due mainly to the wide and growing network of artists dedicated to showcasing Inuit culture to the rest of the world.
Across the territory right now, master carvers are busy etching vivid hunting scenes or depicting iconic Arctic animals like polar bears or narwhal on soapstone with uncanny detail. Meanwhile, globe-trotting Nunavut musicians are on tour somewhere in southern Canada or overseas, with an adoring crowd chanting the infectious Inuktut-language chorus from a new hit song. In Cape Dorset or Pangnirtung or Baker Lake, printmakers are hard at work on a new print collection, featuring fantastical and breathtaking scenes that tell Inuit stories and legends in novel and imaginative ways. In Iqaluit and Rankin Inlet, and communities far and wide, in-demand fashion designers are creating innovative trends, using age-old materials like seal skin, that will leave watchers wowed on international catwalks. In Igloolik, a Cannes-winning filmmaker is planning his next feature film. There is culture everywhere!
A visit to Nunavut is the perfect opportunity to learn about Inuit culture—experience it first-hand through on-the-land adventures and storytelling, and by participating in arts workshops, games and more.
Take an arts tour
Studios, arts centres and museums all over Nunavut open their doors to visitors hoping to witness masters at work. In Baker Lake, drop into the Jessie Oonark Centre—named after the famed local printmaker and artisan—where seamstresses, carvers, jewellery-makers and printmakers share space and create inventive works of art.
In Pangnirtung, the Uqqurmiut Arts and Crafts Centre is a hub of creativity, housing a print shop as well as a studio for tapestry. Each of these studios and art centres sells works from local creators.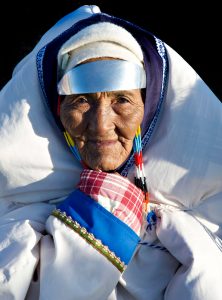 Take part yourself
Outfitters and operators in most every Nunavut community can bring you out on the land to try your hand at ice fishing, dog sledding, and to sample local country food like tuktu (caribou), maqtaaq (whale fat), pipsi (dried Arctic Char), or seal.
Igloo Tourism and Outfitting, out of Igloolik, will bring out to an igloo village, where you can help build your own snow house. You can also choose to spend the night there, wrapped up warmly in caribou blankets, and watch the Aurora borealis (Aqsarniit) when they come out to dance, listening as your guide tells you the legends behind the glowing lights.
In Iqaluit, jump right into the excitement during Toonik Tyme, the capital's annual spring carnival, and participate in an igloo-building competition or any of the traditional Inuit games and demonstrations.
Take home a souvenir
In Iqaluit, there's no shortage of places to pick up souvenirs from your Northern adventure.
Carvings Nunavut sells a variety of locally produced soapstone carvings in downtown Iqaluit and also online. Uasau Soap's handmade bars, that incorporate bowhead whale and other local ingredients, are available for purchase around town. Malikkaat, a downtown craft shop and souvenir shop, and Rannva Design, an arts consignment shop and seal skin designs retailer, sell prints, animal skins, beadings, carvings and other works from artists around the city and territory. Remember your trip through branded items from Inukpak Outfitting.
In Rankin Inlet, Ivalu is your one-stop-shop for Inuit art of all kinds, with items from all over the territory packed into the intimate retail space. Outside of Iqaluit, be on the lookout for Char and other delights from Kivalliq Arctic Foods and Kitikmeot Foods.