Meet the Majestic Arctic Animals of Nunavut
A part of Nunavut's vast allure is its expanse of natural wilderness. Although the territory is sparsely populated, there's an abundance of Arctic animals that roam the land daily and many travellers come to view these animals and witness their beauty. From Narwhals to polar bears to beluga whales and muskox. Here's how you can see the animals that live in the Arctic up close.
Polar Bears
The Arctic is home to 60% of the world's polar bear population making it one of the best places to see them. Also known as Nanuq in Inuktitut, polar bears can be found throughout the territory and along the coastline, especially in communities such as Arviat, Hall Beach, Pond Inlet, Naujaat and Resolute. The marine mammals spend most of their lives roaming the sea ice in search of food.
It's important to remember polar bears are the largest land carnivores and must not be approached. The best chance to spot these majestic creatures is with Arctic Kingdom, Arctic Bay Adventures, Kivalliq Wildlife Adventures, Arctic Wilderness Guiding and Nunavut Experience Outfitting just to name a few. Arctic Kingdom trips follow the migration patterns of polar bears and other Arctic wildlife to provide incredible opportunities to safely spot and photograph them.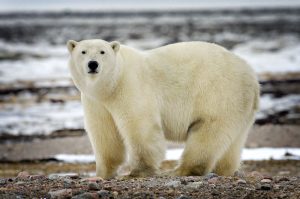 Narwhals
Affectionately known as the unicorns of the sea, Narwhals are aquatic marine mammals found in places such as Lancaster Sound, Pond Inlet, Arctic Bay and Naujaat. Its famed spiral tusk, mainly found on males, is actually an enlarged tooth with many sensory nerves.
A reliable method to see Narwhals is during their seasonal migration as they return to the same locations every year. Although Narwhals travel in groups of three to 20, these whales are less ubiquitous than beluga. To enhance your chances of spotting this exclusive animal, connect with a local outfitter such as Adventure Canada where you'll see them in Sirmilik National Park or in the fjords of Devon Island. Or Arctic Bay Adventures on their Arctic in Bloom tour.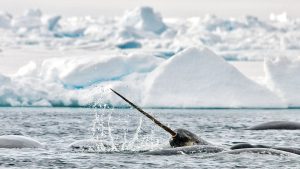 Beluga Whales
Didn't spot a Narwhal? While in the territory you're sure to see it's closest living relative, the beluga whale. Both narwhals and belugas spend their entire lives in the Arctic Ocean, share similar behaviours and stature, and have been known to interbreed.
Unlike their cousins, belugas are sociable animals. These playful creatures can sometimes be seen from the land but the best encounter is by boat, as they splash and swim alongside. These bulbous forehead mammals are referred to as the "Canary of Sea", because they can easily be heard, producing a range of sounds including chirps, clicks, whistles and squeals.
Belugas are common to Nunavut communities along the western coast of Hudson Bay such as Arviat, Chesterfield Inlet, Rankin Inlet and Whale Cove, also near Foxe Basin, including the communities of Hall Beach and Igloolik, plus along the eastern shores of Baffin Island, from Qikiqtarjuaq and Clyde River as far north as Pond Inlet. To experience this musical symphony a local guide boat tour with Adventure Canada or Peter's Expediting and Outfitting is best.
Muskox
Most of Canada's Muskoxen population live in the arctic tundra scattered across the Kivalliq and Kitikmeot region. With a healthy population, Muskox thrive in the Arctic and have uniquely adapted for it. Their long under-layer of fine wool called 'qiviut' is said to be one of the lightest and warmest wools in the world – and the reason they can withstand temperatures below – 40 degrees celsius. Although Muskox can weigh between 260 and 660kg, they are herbivores and feed on lichen, grass and seeds. Local Outfitters in Cambridge Bay, Baker Lake, Gjoa Haven and Grise Fiord can bring you close to mighty muskox, who migrate nearby. If you're not ready to view them in person, a hat or sweater, or even some "qiviut' wool is a great souvenir of your visit. You can buy them online at Ivalu.ca.
Avatittinnik Kamatsiarniq' an Inuktitut term which means 'respect and care for the land, animals and the environment.' This longstanding cultural concept of living in harmony with nature and wildlife is still taught by Inuit elders to their children and grandchildren today.