On The Land In Cambridge Bay: 3 Days Of Adventure!
On the Land in Cambridge Bay: 3 Days of Adventure!
The community of Cambridge Bay is located on the southeast coast of Victoria Island at the western end of Queen Maud Gulf where it narrows into Dease Strait. In Inuinnaqtun "Cam Bay" is called 'Iqaluktuuttiaq' because it is a 'good fishing place'. The hamlet is located close to the Ekaluk River, which is famous for giant Arctic Char. Cam Bay is the principal stop for passenger and research vessels traversing the Northwest Passage.
Getting to know this region and its people could take weeks, but if you only have a few days…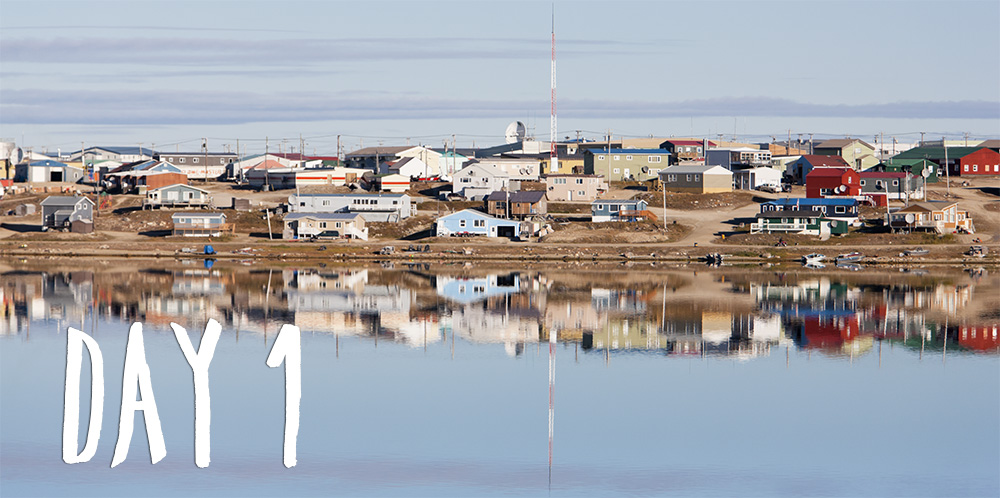 Soar into Cambridge Bay from Yellowknife with one of our hospitable Northern Airlines – First Air or Canadian North. You won't arrive hungry; our airlines still feature complimentary in-flight full-service meals! After collecting your two free checked bags, book into one of the Cambridge Bay's welcoming hotels (Arctic Island Lodge, Green Row Executive Suites, Enokhok Inn & Suites or The Umingmak Lodge Bed & Breakfast).
Stop in at the Arctic Coast Visitor Centre to experience the interactive displays, resource materials and meet the friendly staff, in addition to perusing some Nunavut merchandise.
Enjoy a leisurely bike ride (the Visitor Centre offers bike rentals) to the east side of the Bay where the Loran Navigational Beacon formerly stood. It is here you will find the remains of Old Town, which was once a small Inuit camp. From there pedal to the Stone Church which first opened in 1954; the mortar is made from clay and seal oil.
Try your hand at constructing an Inuksuk on the beach beside the Maud Cairn which was a gift of friendship and unity from the Norwegians, who are currently working to bring the Maud back to Norway on a custom-made barge that towed her home. Don't forget to stop in at Kitikmeot Arctic Foods for a tour and to purchase some Muskox, Caribou or Arctic Char; what we Nunavummiut call "country food".
Explore the community by foot under the midnight sun, meeting local characters and carvers working outside on their latest stone creations.
Rent a "Honda" (AKA four wheeler) from Go Cargo Taxi, load up your pack and head out to Ovayok Territorial Park, about 16 km east of town.
The central feature of the park is the mountain called Ovayok (Mount Pelly).The legend surrounding the mountain tells the story of Ovayok, a giant who died and overtime morphed into the mountain. The park offers over 20 km of interpretive trails that showcase the legend of Ovayok, human history, plant life and wildlife. While on route keep an eye out for Muskox, Arctic Foxe and flocks of Migratory Birds.
Pitch your tent, enjoy some of your country food and marvel, as you watch the sun circle around the horizon and you capture that famous "it's still bright out at midnight" shot!
Meet up with a local outfitter Hakongak Outfitting or Ekaluktutiak Sport Hunts, Ltd. for an interpretive tour of the Dorset, Tuniit and Thule archaeological sites just north of town.
Continue by ATV to the Japanese Monuments and gravel pit area for some tea and bannock at a cabin with a local elder for some traditional storytelling.
Now it is time to head down to the shore to catch the freshest Arctic Char in the world or make your way over to "Many Pebbles Municipal Golf Course", where an ATV is the preferred golf cart, only a pitching wedge is needed and the green fee or "tundra fee" is FREE!