Arctic Bay is a vibrant, traditional community located in the northwest corner of Baffin Island. This safe harbour hamlet is situated upon a south-facing gravel beach on Adams Sound, which feeds into Admiralty Inlet, draining northwards to Lancaster Sound and the Northwest Passage.
Its sheltered shores and steep cliffs provide nesting habitat for many unique species of High Arctic birds and its sea waters are home to narwhals and bowhead whales. Every year in the spring a popular dog sledding race takes place between Arctic Bay and Igloolik that draws the best teams from across Nunavut.
Arctic Bay
ᐃᒃᐱᐊᕐᔪᒃ'
the pocket'
Inhabited by nomadic arctic peoples for 5,000 years, it is also named 'Ikpiarjuk' which means 'the pocket' in Inuktitut, referring to the way the site is surrounded by protective hills on three sides.
Summer temperatures range from 0°C to 15°C. Protected from strong north winds, Arctic Bay enjoys a surprisingly stable climate. Fall and spring weather is variable, with temperatures between 0°C and -30°C. The snow begins to melt in May, but the sea ice doesn't break up until the end of July. Winter temperatures hover around -35°C yet can sometimes drop to -50°C on very rare occasions.
Average Temperature in Arctic Bay

January
-29oC
February
-30oC
March
-28oC
April
-20oC
May
-11oC
June
0oC
July
5oC
August
2oC
September
-6oC
October
-15oC
November
-23oC
December
-27oC
Arctic Bay enjoys constant 24-hour sunshine from May 6 to August 6.
For 5,000 years the nomadic hunter-gatherer ancestors of the Inuit people came to this place especially for a valuable raw material. At nearby Uluksan Point, located at the mouth of Arctic Bay, slate is found that was ideal for making the 'ulu' — woman's knife.
Paleo-Eskimo Culture: 2500 BC to 1500 BC
Pre-Dorset Culture ('Saqqaq'): 2500 BC to 500 BC
Dorset Culture ('Tuniit' or 'Sivullirmiut'): 500 BC to 1500 AD
Thule Culture (Proto-Inuit): 1000 AD to 1600 AD
Inuit Culture (Eskimo): 1600 AD to present-day
In 1872, a whaling ship called the Arctic, captained by William Adams from Scotland, passed through and gave the area its English names, Arctic Bay and Adams Sound. In 1911, Captain Bernier of Canada arrived here in his sailing vessel, also called the Arctic, to establish and proclaim sovereignty over the High Arctic islands of this region. Norway was trying to claim the archipelago for itself. Bernier left behind some historical markers in this area — a wooden cross, several cairns, painted rocks, a lead plaque and a grave.
The Hudson Bay Company built a trading post here in 1926, but closed it down the next year. Until it reopened in 1933, local Inuit were forced to travel 240 kilometres (149 miles) to Pond Inlet or 425 kilometres (264 miles) to Igloolik to conduct trade. Reverend Jack Turner opened an Anglican mission in 1937 at nearby Moffat Inlet.
The first school was erected in 1959. Medical facilities and public housing units were constructed in the 1960s. The Government of Canada would not provide social assistance money to nomadic Inuit families living out on the land, so most local people settled into the community during the late 1960s, with the last family moving off the land in 1971. The hamlet of Arctic Bay was founded in 1976.
On October 15, 1976, a lead-zinc-silver mine opened 32 kilometres (20 miles) from Arctic Bay at the small community of Nanisivik. It was the first mine in the world north of the Arctic Circle.
The Nanisivik mine closed down in 2002 and its community was completely dismantled. Expansion of the Arctic Bay airport was begun in 2008. Until the new airport opened in 2011, large aircraft used the Nanisivik airport, which is now mothballed.
In 1941 a joint Canada-US weather station was built here that operated for twenty years. It is the oldest building still standing.

The road between Nanisivik and Arctic Bay is the only highway in Nunavut and the only road in the territory that connects two communities.
Each year when the seaways are open, tourists arrive on High Arctic and Northwest Passage cruise ships to experience the sights and sounds of Arctic Bay, sampling the local cuisine, meeting artists, acquiring carvings and other handicrafts. The sheltered harbour is ideal for yachts in the summer.
Dozens of species of migratory High Arctic seabirds such as thick-billed murres, snow geese, kittiwakes, ivory gulls and Ross's gulls have breeding grounds in the vicinity that are very active in the summer. Hiking, camping and fishing are popular local activities in nearby Sirmilik National Park. Snowmobiling, cross-country skiing and dog sledding tours are other fun things to do. Traditional Inuit games, competitions, dances and community feasts take place here each spring in conjunction with the annual dog sledding race between the communities of Arctic Bay and Igloolik.
Marine mammals to view near here include bowhead whales, narwhals, seals and occasionally polar bears. There are arctic hares, arctic foxes, lemmings and marmots.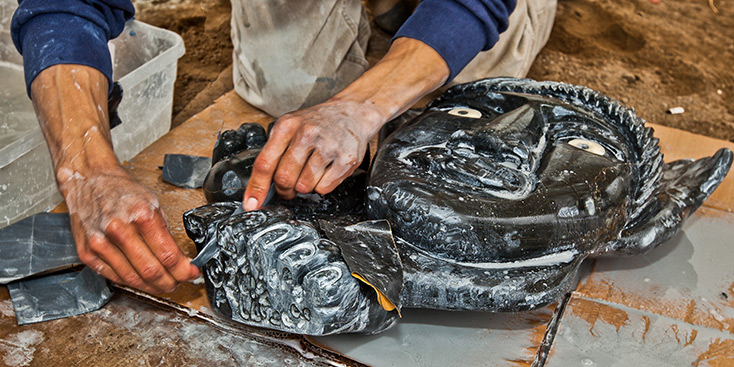 Arctic Bay artists and seamstresses produce high-quality marble carvings, ivory sculptures, traditional clothes and other fine crafts and artworks that can be viewed and purchased directly from the talented local artists themselves. The Qimatuligvik Heritage Organization, which is run by the hamlet and open year-round, is an excellent venue to learn more about the local Inuit culture, with a diorama display plus arts and crafts gift shop.
Sirmilik National Park

Arctic Bay is near the western boundary of Sirmilik National Park. This huge park represents the Northern Eastern Arctic Lowlands Natural Region and portions of the Lancaster Sound Marine Region.
Sirmilik comprises three separate land areas: Borden Peninsula is an extensive plateau dissected by broad river valleys. Oliver Sound is a long, narrow fiord with excellent opportunities for boating, hiking and camping.
It features beautiful landforms and superb wilderness hiking and camping sites.

Bylot Island is a spectacular area of rugged mountains, glaciers, coastal lowlands and seabird colonies.