See Nunavut The Original Authentic Way—By Dogsled
See Nunavut the original authentic way—by dogsled
Before snowmachines and airplanes, pick-up trucks and ATVs, there was the dogsled—the original mode of winter transportation for Inuit in the high Arctic. Today, many continue to keep dog teams. Some choose to use dog teams for their hunts, while others run competitive teams that take part in famed dogsled races like the Nunavut Quest, held between North Baffin communities like Pond Inlet, Igloolik and Arctic Bay.
For visitors, this is still the most authentic way to experience the natural beauty of Nunavut. Feel the surge of adrenaline as a team of energetic huskies darts off and whisks you away into a winter wonderland. All manner of dogsledding tours are available, from afternoon sightseeing outings to multi-day expeditions between towns.
Here's some of what you can expect:
Kool Runnings, based out of Iqaluit, offers a variety of dogsledding experiences to dog lovers. Head out for the day with an expert guide and a team of playful huskies—including lead dog Loulou and her brother Kinai—to explore the capital's pristine surroundings. With Kool Runnings, guests will learn what it takes to care for a dog team before creating your own custom dog-powered adventure. Want to get far away from town for an overnight winter camping trip? Or would you prefer to bikejor or skijor along Frobisher Bay, with a dog pulling you through a winter wonderland? The choice is yours. Guests of Kool Runnings also have the option to take a real Arctic dogsledding trip, by travelling between Iqaluit and the community of Kimmirut, roughly 120 kilometres away, on a trail used by mushers for generations.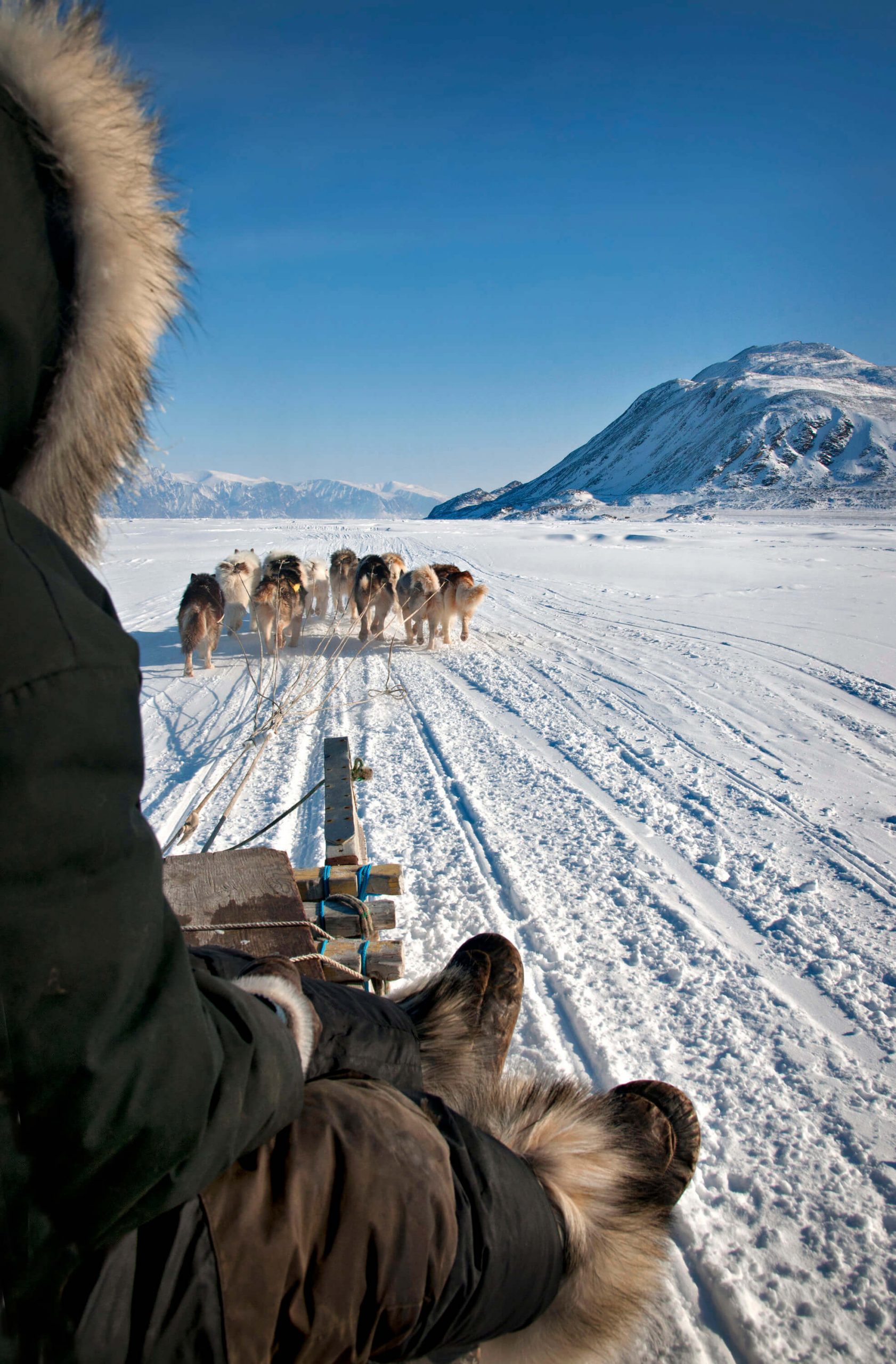 Inukpak Outfitting also offers a range of dogsledding adventures from Iqaluit, which include half-day, full-day, overnight and multi-day trips, where you will learn the ins and outs of running a healthy and happy Arctic dog team.
Outside of Iqaluit, Arctic Wilderness Guiding and Outfitting gives visitors to Naujaat the chance to head out on the land with a team of enthusiastic huskies. So too does Pirursiak Arctic Tours, in Hall Beach, allowing guests to cozy up under layers of furs on a qamutiq—the traditional Inuit sled—and head out in the Arctic Ocean.
For the truly intrepid, the expert and experienced guides at Northwinds Expeditions can organize life-affirming Arctic adventures you've only dreamed about, like navigating the Sverdrup Pass in the High Arctic, or even a trip to the North Pole.
From leisurely afternoons to epic, once-in-a-lifetime journeys, experience Nunavut with an authentic, amazing dog sled adventure.