Things To Do While Visiting Iqaluit: The Capital City Of Nunavut
Things To Do While Visiting Iqaluit: the Capital City of Nunavut
A trip to Iqaluit can be whatever you make of it! Getting here is easy with departures daily from Ottawa International Airport on Canadian North and new seasonal flights from Toronto during the summer. You'll arrive into Iqaluit's impressive new airport that is eight times larger than the previous "yellow bubble" of a terminal, which was lovingly referred to as the "Yellow Submarine" by locals. Contact your hotel for shuttle services or call Tuktu Caribou Cabs at 867.979.4444, which travel anywhere in the city for $7 per person, keeping in mind that pick up of additional passengers while en route is common practice. The shuttles or cab will take you to one of the four full-service hotels: The Discovery Lodge, Frobisher Inn, Capital Suites or Aqsarniit Hotel or to one of Iqaluit's well-equipped B&B's, each with spectacular views.
The Unikkaarvik Visitor Centre, located on the beach of Koojesse Inlet is a great location for a selfie with the 2400 pound marble drum dancer, which was airlifted into the building in 1991. Expert information counsellors will provide you with information on "what to do" in the territory and can also deliver an informative tour of the arctic wildlife dioramas and interactive displays on request. Make sure to grab a city guide or download the SikSik App to help navigate the Arctic capital! We also have an Iqaluit Audio Tour if you're interested.
Down the road from the Visitor Centre, you'll find the Grind and Brew Café, which offers something you won't find anywhere else — their amazing Arctic Char Pizza! After lunch it's a short walk to the Nunatta Sunakkutaangit Museum which hosts rotating exhibits of northern artwork and a fantastic gift shop, boasting loads of unique Inuit arts and crafts.
Make your way out to Sylvia Grinnell Territorial Park, which is located about 20 minutes (walking) from the Discovery Lodge Hotel.
The view of the frozen landscape from the platform is something you must see! Look out for the infographic plaques which narrate the history of the original town settlement, including Martin Frobisher's journey to Frobisher Bay. Make your way through the snow and down to the river to see the frozen rapids then enjoy a hike through the park loop and keep your eyes open for Arctic Fox, Hares and other wildlife that may cross your path.
Looking for a night on the town? Check out a local favourite — Wing-Night — and be sure to get there early there might be a lineup. For real — we take our wing nights very seriously up here! The Storehouse Bar & Grill at the Frobisher Inn and the Legion feature wings on Wednesday nights!
Feeling something a bit more traditional? Try the Gallery Dining Room also located in the Frobisher Inn, the Granite Room in the Discovery Lodge Hotel. The restaurants often feature local fare or "county food" as Nunavummiut call it; char being very popular, and seasonally they have musk-ox and caribou dishes. Iqaluit restaurants often double as a sit-down shopping experience, as local artisans might visit your table with their latest creations for sale.
Start off your day by grabbing a quick bite and a coffee at the Caribrew Café (Also in the Frobisher Inn). After getting fueled for a day of discovery make your way down to the Legislative Assembly of Nunavut. Free tours are available throughout the year by appointment. You can call 975-5000 to book it!
Have you ever been dogsledding? Even if you have, I'll bet you've never been dogsledding on the Sea Ice! Venture out on a Qamutik (traditional Inuit sled, pronounced kah-mo-tick) pulled by a team of spirited Inuit Sled Dogs in fan formation; witness the ever-changing ice walls created by our massive tides (second in Canada only next to the Bay of Fundy) and admire the freedom of Canada's Arctic as you ingest the sights. When you return home to the dog lot with one of our qualified and welcoming outfitters make sure to reward your new furry friends with some yummy treats and a few doggy kisses.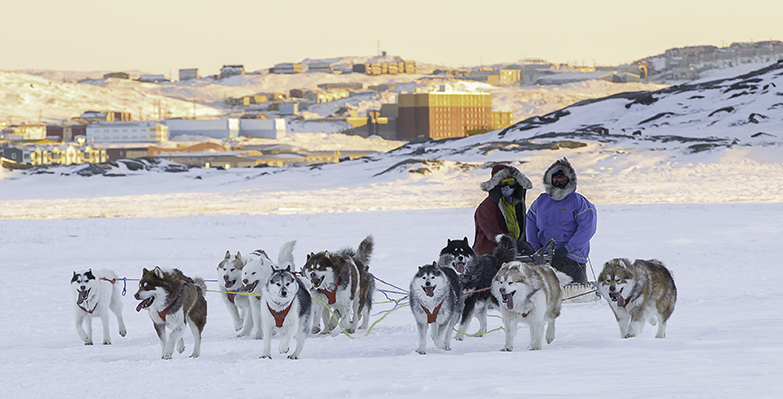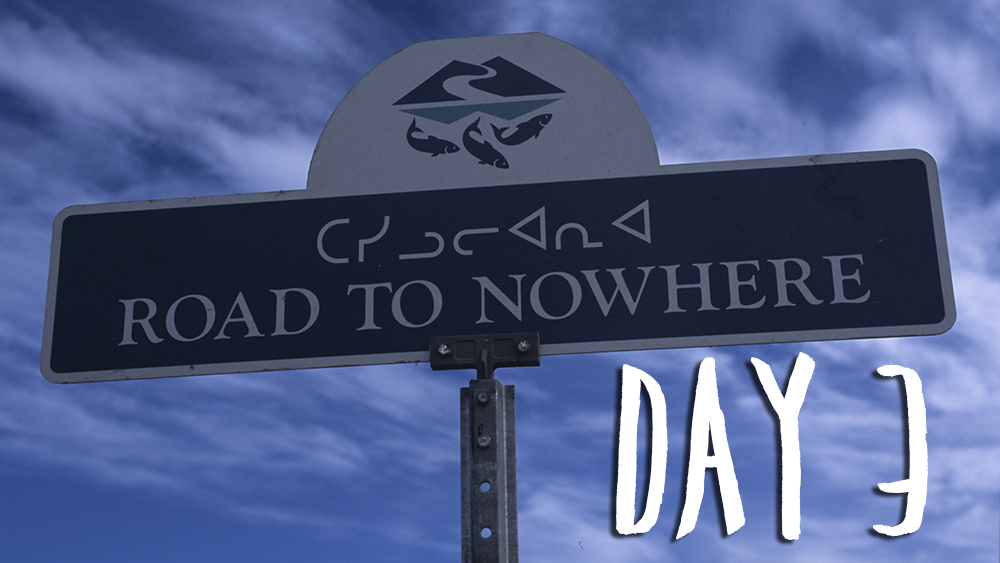 Go with the "floe" and take an adventure out to the Iqaluit Floe Edge! This is a full day expedition of a lifetime; make sure to dress warm (arctic clothing can be supplied by the outfitter on request).
Transportation will take the form of driving or riding as a passenger on a snowmobile or potentially in a Qamutik pulled by the snowmobile, snuggled under some cozy seal skins and/or caribou hides.
You'll have lunch at the polynya; an area of open water surrounded by sea ice and home to thousands of migratory birds. Lunch could consist of some fresh Arctic Char and piping hot tea made from virgin melted snow! On sunny days when the tide is low, giant ice walls reflect a thousand different shades of blue into the icy open water. If you're up for it, there's time for a quick paddle with a portable kayak in the polynya!
Upon arrival at the floe edge, where the frozen ocean meets the open water, the epic views will make your jaw drop to the snow. This is a very special sight that few people have had the opportunity to experience; it evokes feelings of being at the edge of the earth. If you're lucky you might even see walrus, seals, polar bears, narwhals, bowhead and beluga whales, and a variety of migratory birds.
When you get back to town why not grab a local beer from the most Northern brewery in Canada – NuBrew. If its too early for a beer – don't miss the amazing coffee and snack creations prepared at the Blackheart Cafe. Then possibly a visit to Carvings Nunavut, Rannva Designs, Malikkaat or Northern Collectables and take a piece of Nunavut home with you. Popular souvenirs are sealskin mitts, walrus whisker earrings, ivory pins, and one of our favourites – Uasau Soap – made from seal oil.