Land in Iqaluit 
Iqaluit is a place unlike any other. If you haven't experienced the Arctic before, you may be a bit unsure of how to prepare for your summer trip. Iqaluit is best experienced with a local guide who can share the history of the community, take you paddling or fishing or on a guided hike.   
However, many of them fill up quickly. If you haven't booked an excursion, don't worry! We've outlined some self-guided must-dos for your three days in Iqaluit. 
Arrival Day 
Before arriving, select the hotel you want to stay in. We have several options to choose from. The Frobisher Inn is a classic and iconic hotel located in the center of town. This is property is filled with history and sits on one of the highest vistas in Iqaluit which allows for spectacular views of the Frobisher Bay.
If modern is more your scene, be sure to check into the Aqsarniit Hotel which is on the outskirts of downtown. This contemporary hotel boasts beautiful art in the lobby and a small art store on site. The Discovery Hotel is a unique boutique hotel located near the beach. In the summer you'll be able to see the movement of the freight that arrives by barge on the "sealift" beach from this spot. If you're staying a bit longer and would like a suite-style option – Capital Suites is the choice for you.  
After you check into your hotel, be sure to drop by the visitors center to get updated information on what to do in town. Here you'll find maps, information on activities as well as an exhibit on Nunavut's history.  
This should be your first selfie stop! The X foot marble statue of a drum dancer is a must-capture photo! Next door is the Nunatta Sunakkutaangit Museum which can't be missed.  
Food Fare 
A summer trip to Iqaluit should be sure to feature all the local cuisine. While you can expect to find the typical fare such as famous pizzas from The Grind and Brew, there are other more surprising options. Yummy Shawarma offers wraps and traditional Lebanese food. They also took home the prize for the best burger in the 2020 Burger Week contest.The restaurants inside the hotels offer some of the best dining options. The Granite Room is the place to go for fine dining and The Frob Kitchen & Eatery offers a unique experience to enjoy country food such as Arctic Char and Caribou.  If you're looking for elevated pub food, be sure to check out the Storehouse Bar & Grill.
If you're one who believes the measure of a city's worth is in its coffee options, the Black Heart Cafe will not disappoint! Just on the edge of town, the Black Heart has amazing caffeinated (and non-caffeinated) beverages and offers lunch fare. Popular options here are the PCI bowls with caribou or Arctic char and the Brutus Sandwich.  
For an authentic experience, be sure to sample what's known as "country food." Country food is locally harvested items from Nunavut and can include fish, caribou, muskox, polar bear, and some plants. You can find this on some menus at our restaurants or pop over to Iqaluit Enterprises to pick some up to take home. 
Nightlife 
Partying under the Midnight Sun is something everyone should check off their bucket list. While Iqaluit has a few bars if you're seeking that kind of experience, we prefer memorable experiences. Head over to the NuBrew – Nunavut's only Brewery and the most northerly one in Canada. There you can sip tasty beer and play board games in their taproom.  
If you prefer to be outside, the hazy dusk that runs into wee hours of the morning during the "bright season" is a great time to hike in Sylvia Grinnell Park. If you want to create your own DIY party, head to the river in the park and use one of the fire rings to build your own bonfire. You will find firewood in boxes at the Park. Be sure to pick up some marshmallows to roast first!  
Art Viewing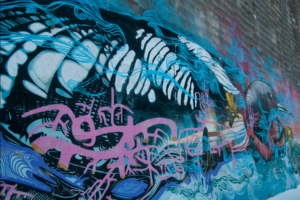 Our capital city is full of art. You'll see it everywhere in Iqaluit. However, if you're seeking some guidance, here are some of the most amazing art installations you'll find.  
Hospital Mural – On the side of the hospital is a beautiful mural that is full of people and animals. Every time you look at it, you will see something different.  
Aquatic Centre – On the side of the Aquatic Centre is another mural worth taking a long look at.  
Iqaluit Square – The Iqaluit Square in front of the Elders Qammiq is a nice open area with some small art to observe. It's also a lovely area to sit and soak up the sun.   
Post office – Next to the post office downtown is a small gravel park filled with unique sculptures and carvings. One of the most unique ones is a metal raven on a post. (Stick your hat or mitt in its mouth for a really fun photo!) 
History & Town Highlights 
Iqaluit has a rich history and you can still see artifacts of the town's beginnings around you. If you can't catch the history town tour offered by Inukpak Outfitting, consider a self-drive to Apex. Apex was where the Inuit originally lived when they came to Iqaluit to help the US military build the North Warning Station the town grew up around. Apex is a charming little part of Iqaluit and is about a 7-minute drive from downtown. Another must for photos and beautiful scenery is the red-roofed Hudson Bay Buildings and the on Apex Beach and the Red Boat on the Apex beach.   
HIKES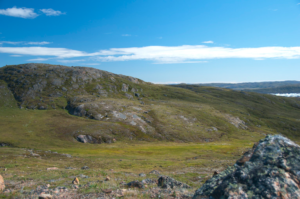 If you're looking for breathtaking vistas and unique views, Sylvia Grinnell Park offers several hiking routes that are not challenging. They're ideal for weekend warriors. Start at the parking lot and walk up the pavilion where you can stand on the platform that overlooks some fast-moving river waterfalls. Note* For a trail map, you can download the Alltrails App. 
Upper Base – Part of Iqaluit's history is the establishment of the town as a North Warning Site during the Cold War Era. A short run (or drive!) up a high hill will reward you with some epic landscapes as well as a sense of what life might have been like when this base was roaring with upwards of 2,500 Americans.  
 Apex Trail – Start from near the graveyard in old Iqaluit and hike along the shores of  Koojesse Inlet to Apex. You'll follow a well-worn path and likely meet some other hikers along the way. You will finish on Apex Beach which is a great place to stop and take in the view. 
Hospital Hill – One of the highest points in Iqaluit is behind the hospital, known as Hospital Hill. A 10 minute climb will reward you with a 360 view of Iqaluit. You can  enter from the sides of the hills at the Road to Nowhere or by the Plateau Powerplant. Or for more of a challenge, climb straight up from behind the hospital. You'll know when you get to the top! 
What To Pack 
Iqaluit summer weather can deliver you light snow one day and then hot temperatures (12-15 degrees) the next. It's best you arrive prepared to fully enjoy this capital city.  
Layers (a windproof jacket and, a fleece jacket) 
Sunglasses – a must to protect your eyes from the glare of the water. 
Sunscreen – the long days mean more chances of getting burned. 
Bug repellant – the mosquitos love the summer as much as us! 
Hiking Boots –

a good pair of waterproof shoes with good grips to hike the tundra and walk through town.

An open attitude – Iqaluit is one of the most unique places on earth but things do move a bit differently up here. Check the expectations of big-city service at the door and enjoy a truly authentic modern Arctic city.